Buy the very best Promotional Products in Brisbane
BIC PROMOTIONAL PRODUCTS
Welcome to Bic Promotional Products Aust website, we liked the quality and service provided to us by Bic Graphic Australia so much we decided to build a promotional products website committed solely to Bic promotional products. We can supply a full range of Bic promotional pens, Bic Promotional Lighters, Bic Highlighters &, Markers, Bic promotional Roller pens, Bic Promotional Gel Pens, Bic Promotional Pencils, Bic Promotional Digital Printed Pens, Bic Promotional Keyrings, Bic Executive Pens, Sheaffer Series Pens, Bic promotional Mechanical Pencils, Ac promotional Notebooks and much much more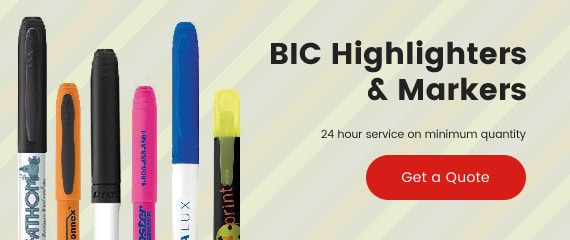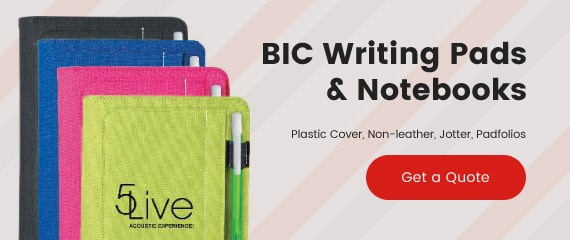 If this is your first time using bicpromotionalproductsaust.com.au you will receive your quote within 1 hour Monday to Friday. Once your email address is accepted you will be able to receive an instant quotation emailed to your inbox.
BIC Promotional Products Australia aims to become Australia's leading distributor of BIC promotional merchandise such as pens, branded pencils, and much more. All you have to do is aim for the best and allow us to do the rest.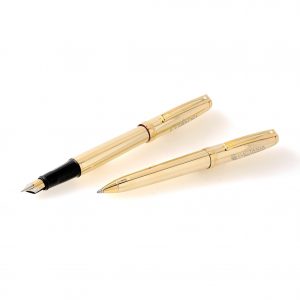 BIC Graphics Australia prints all the custom promotional items and they are dispatched out of Melbourne.
Engraved or printed promotional pens are a very popular promotional gift, for organisations and businesses of all kinds.
We have promotional branded pens to suit all organisations since we have such an amazing collection of quality promotional writing tools.
Our range of corporate promotional products such as printed plastic pens are ideal for simple promotional trade show giveaways because they offer great value for money and are guaranteed to do a great job when it comes to marketing your brand.
A more expensive luxury branded pen can serve a different purpose because it can make a great staff incentive or even an excellent corporate gift for your loyal customers.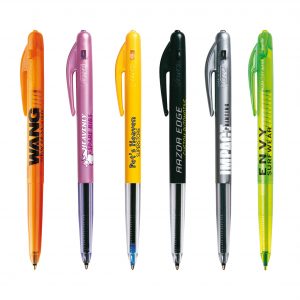 You can trust our company to supply you with any current model from our impressive collection of company promotional items such as the Sheaffer Series pens and the BIC Executive Series pens.
BIC is a leading manufacturer of stationery products selling about 24 million such products around the world every single day, which means that they have to be doing something right!
Our collection of promotional items such as promotional pens and promotional pencils can make a great cost-effective marketing tool for your next exhibition or conference.
Custom Promotional Products Solutions in Brisbane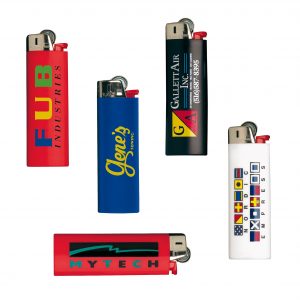 Don't forget that if you have any questions about our customisation options, for any of our corporate promotional products such as corporate gifts, promotional pencils, promotional pens, or any other promotional merchandise, our friendly staff look forward to hearing from you.
If you are in the process of determining which custom promotional products and corporate gifts are likely to best fit the marketing strategy of your company then you need to include promotional branded pens. 
Why Promotional Branded Pens?
The promotional printed pens we offer are an excellent tool in various ways and can add a lot of potential to your overall marketing strategy.
Conference centres, real estate firms and the like all have promotional printed pens that are intended for use by customers.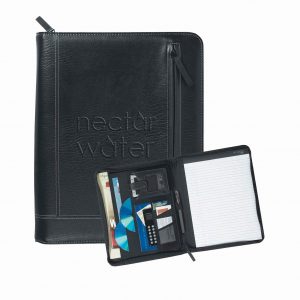 These places ensure that the pens are conveniently available for customers to take and use them for any reason.
The promotional branded pens are put there for the customer's immediate needs and the great thing is that it is always good for business when customers walk out with those promotional pens.
It is a great way for the name of your business or organisation to be kept in people's minds and helps draw them back in. Who knows where your promotional branded pens will end up.
The promotional branded pens exist solely for the sake of exposure. New potential customers don't have a reason to walk through your doors if you are not visible to them by some method.
If you give away promotional pens, however, you have a great chance to start conversations between people that involve your business.
If your client wants to write something or perhaps somebody they know needs a pen, it will be your branded pen that will be used.
This act alone is enough to spark a conversation about your brand. A bit of chit chat here and there and you will end up with a coveted golden referral.
BIC promotional pens are so handy that just about any company, brand, or business will have no choice but to use them.
They help advertise your business and can be used as valued giveaways. They are also one of the least expensive ways to market.
What possible excuse do you have not to include them with the rest of your promotional items when making an order?
For all your promotional merchandise requirements, please contact us today on 1800-963-533 or send us a message on our contact page.